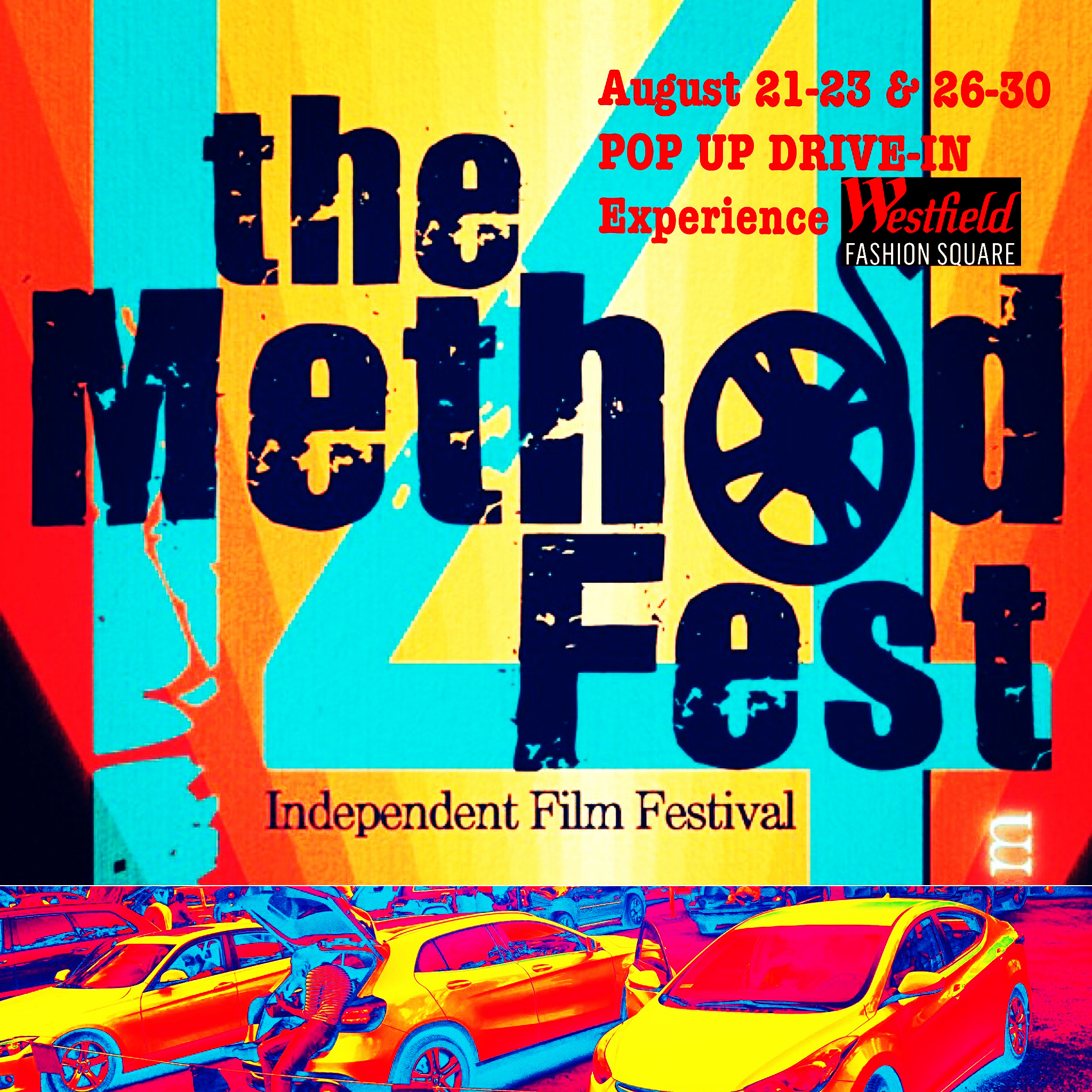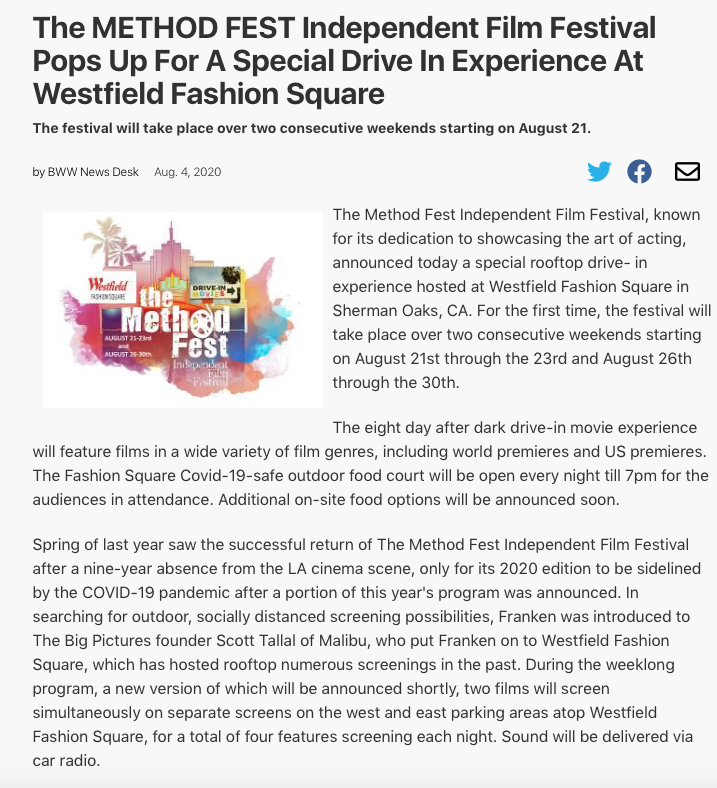 PLEASE NOTE:
All films, originally accepted for the postponed
festival date, will be played based on the original
schedule and subject to their availability to play.
All existing purchased tickets will be accepted for
the new screening dates.
Premiere status, screening times and locations,
may be subject to change.
These new dates are also subject to change based on
the current and future situation with COVID-19. The safety
of our audience and filmmakers is our main concern,
and any future changes to our festival dates will
be based on that concern.
Named for the "Stanislavski Method," which brought truth and realism to the world of acting, The Method Fest is the only major film festival in the U.S. that truly pays homage to the actor.

The Method Fest is the Actor's Film Festival, a festival of discovery, seeking breakout-acting performances of emerging stars and established actors in story-driven independent films.
2020 Pop up Drive-In Screenings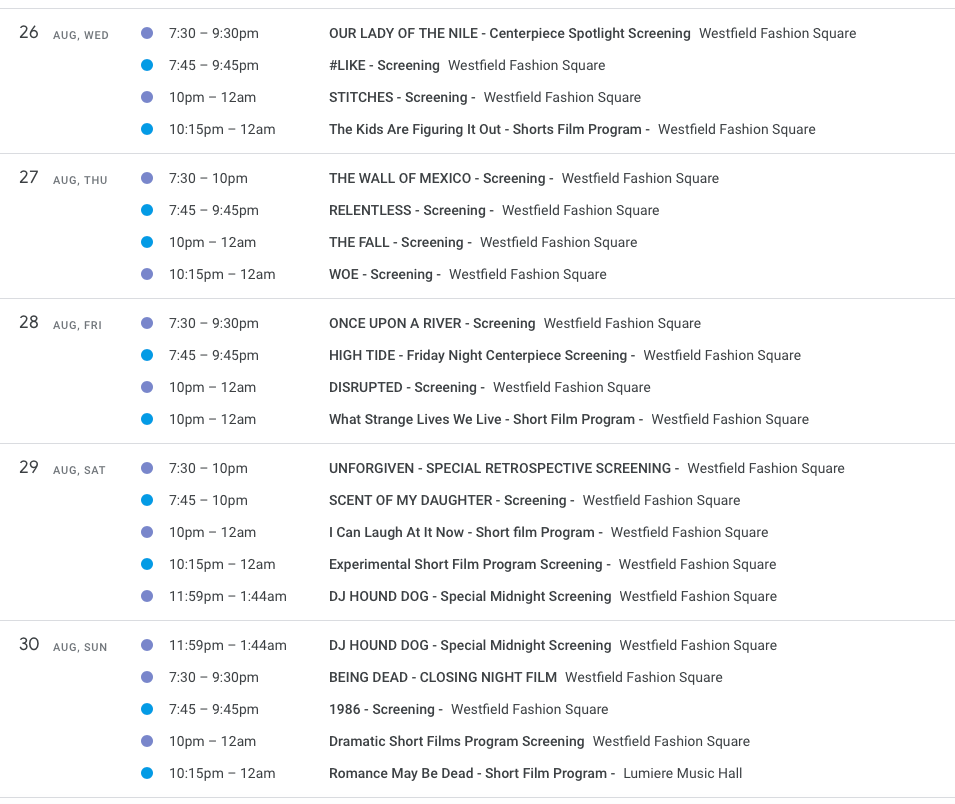 2020 FEATURE FILMS
BEAUTIFUL DREAMER - OPENING NIGHT FILM - 8/21

A contemporary "dramedy" about a group of Bay Area friends in their early 40s navigating one of those life moments together: expecting a surrogate baby, a long and deep friendship in jeopardy, two women finally deciding to marry after years of living together, a novelist with crippling writer's block. Capturing this next uncharted chapter of their extended family, Beautiful Dreamer explores the messy secrets and complicated nature of parenthood and the modern family, all the while testing the boundaries of love and friendship and the bioethics of surrogacy. DIR Amy Glazer. SCR Patricia Cotter. CAST Wendie Malick, Louis Ozawa, Erin Daniels. (U.S.) World Premiere
THE JONESTOWN DEFENSE - OPENING NIGHT FILM) - 8/21
On the Florida Gulf Coast in the Spring of 2009, a Sarasota businessman is struggling with both a collapsed economy and a personal life in free fall. This is a story of how personal narcissism and professional corruption can destroy a man who believes he's fighting for financial survival, but in the end discovers that what is truly at risk is his soul.
DIR Greg Takoudes SCR Maeve McQuillan, Greg Takoudes, Dennis Ostermaier CAST Dennis Ostermaier, Robert Stevens,
Michael Michaelessi, Amy Seimetz, Mary Bronstein (U.S.) World Premiere

UNFORGIVEN - SPECIAL RETROSPECTIVE SCREENING - 8/29

Winner of four Academy Awards: Best Picture, Best Director, Best Supporting Actor, and Best Editing.
Retired Old West gunslinger William Munny (Clint Eastwood) reluctantly takes on one last job, with the help of his old partner Ned Logan (Morgan Freeman) and a young man, The "Schofield Kid" (Jaimz Woolvett).
DIR Clint Eastwood, SCR David Webb Peoples, CAST Clint Eastwood, Morgan Freeman, Gene Hackman, Richard Harris, Francis Fisher, Jaimz Woolvett. (U.S.) 1992

OUR LADY OF THE NILE - Centerpiece Spotlight Screening - 8/26

A coming-of-age story about of a group of Rwandan schoolgirls at a Belgian-run Catholic boarding school. Dir Atiq Rahimi
PARTY WITH ME - Saturday Night Premiere Centerpiece Screening - 8/22

After the sudden death of her distant father, a young woman copes by distracting herself with alcohol, drugs and the antics of her misguided friends. DIR Robyn August. SCR Robyn August, Michael J. Henderson. CAST Jaclyn Aimee, JT Vancollie, Michael J. Henderson, Allison Flanagan. (U.S.) World Premiere
HIGH TIDE - Friday Night Centerpiece Screening - 8/28

2020 Sundance Film Festival Grand Jury Prize - World Cinema, Dramatic Nominee
Laura has lost control. After she sleeps with Weisman, the lead contractor building a barbecue shed in the backyard of her beach house, the other two workers on the job cross a boundary, making Laura feel that her space has been encroached upon. As Weisman disappears, sheltered and privileged Laura must manage the laborers herself. Her admonishments fall flat, forcing her to retreat behind the pristine glass windows -- keeping watch and being watched simultaneously. Tensions churn, the workers become more unruly, and Laura ignores calls from her husband while downing bottles of red wine, waiting for Weisman to reappear. DIR Verónica Chen. SCR Verónica Chen. CAST Gloria Carrá, Jorge Sesán, Cristian Salguero. (Argentina) West Coast Premiere
DJ HOUND DOG - Special Midnight Screening - 8/29
Musical Comedy DJ Hound Dog is being released for the First time ever in the USA.
The ultimate midnight movie, DJ Hound Dog, Starring Jon Jacobs, Charlotte Lewis, Ivelin Giro and the late Tina Leiusupported by an All Star Cast of Top international DJ's including Tiesto, Carl Cox and Pete Tong and Judge Jules was released throughout Europe under the title Hey DJ and later as Miami II Ibiza.
Now the Fully Restored Directors cut with its original Rock 'n Techno Soundtrack is finally being launched in the USA and will Kick off its US Theatrical & VOD release at Midnight August 29th at the Method Fest Pop up Drive in Film Festival..

OUTSIDE STORY - Spotlight Screening - 8/22
After locking himself out of his apartment, an introverted, heartbroken editor finds himself on an epic journey up, down and around his block with life-altering ramifications. DIR Casimir Nozkowski, CAST Brian Tyree Henry, Sonequa Martin Green, Sunita Mani, Olivia Edward, Asia Kate Dillon. (U.S.) West Coast Premiere

BEING DEAD - Closing Night Film - 8/30

The film adaptation of Jim Crace's award-winning novel follows a mid-life couple's effort to rekindle their marriage by traveling back to the place where they fell in love -- only to arrive at the point of their sudden deaths. DIR John Meyers. SCR John Meyers. CAST Linus Roache, Elizabeth Marvel, Kathryn Erbe. (U.S.) West Coast Premiere
1986 - 8/30

2020 Slamdance Film Festival, Grand Jury Prize - Best Narrative Feature Nominee
Elena is a student in Minsk, Belarus. She has a passionate but increasingly difficult relationship with her boyfriend Victor. When her father is arrested, she has to continue his illegal business. In order to make deals for him, she repeatedly has to drive into the 'forbidden zone' of Chernobyl. She finds herself attracted by the zone's deceptive beauty -- but her life seems more and more contaminated by a destructive force. DIR Lothar Herzog. SCR Lothar Herzog. CAST Aleksey Filimonov, Khelga Filippova, Vitaliy Kotovitskiy. (Germany) West Coast Premiere
BEWARE OF DOG
-
8/23
Alienated in politically-ambiguous Moscow, a young woman deals with severe OCD, while her cousin in Berlin tries to build a romantic relationship ignoring her own condition. In a parallel New York City realm, a heartbroken boxer struggles with addiction, self-worth and online anxiety, which connects all the characters on a universal level. DIR Nadia Bedzhanova. SCR Nadia Bedzhanova. CAST Buddy Duress, Marina Vasileva, Kevin Iso. (Germany, U.S., Russia)
BREAKING THEM UP - 8/23

When resourceful 15 year-old Damien decides that his parents are all wrong for each other, he enlists best friend Erin to help him set them up with other people. DIR Scott Dow. SCR Dev Wadhwa. CAST Kelen Coleman, Stephen Schneider, Aidan Langford. (U.S.)
DIRTY GOD - 8/21

2019 Sundance Film Festival Grand Jury Prize - World Cinema, Dramatic Nominee
A young British mother struggles to reclaim her life after a brutal acid attack leaves her severely scarred. DIR Sacha Polak. SCR Sacha Polak, Susie Farrell. CAST Vicky Knight, Katherine Kelly, Eliza Brady-Girard. (The Netherlands, United Kingdom)
DISRUPTED - 8/28

When a local killing stirs up haunting memories of his wife's unsolved murder from decades earlier, an Oakland widower is drawn back into the hunt for justice with everything to lose. DIR Andre Welsh. SCR Andre Welsh. CAST Geoffrey Lower, Daniel Roebuck, Marie Wilson. (U.S.)
FISH FOR HOSTAGE - 8/22

It was meant to be a small break-in and Piet was only meant to be the driver. "We just crack the safe and off we go. Pretty easy!" says Herm, Piet´s brother. But when Herm takes a hostage and directs Piet into a vacant house, Piet faces the hardest challenge of his life: a kidnapper trapped between his hardliner brother, his own humanity, and the hostage Konstantin. DIR Steffen Cornelius Tralles. SCR Steffen Cornelius Tralles. CAST Enno Hesse, Florian Hacke, Mats Kampen. (Germany) U.S. Premiere
H0US3 - 8/21
A group of former computer science classmates from university, along with their couples, meet for dinner after being out of touch for several years. During the meal, one of them confesses to having decrypted one of the internet's most secret files and shows them the augmented reality application found within. Their efforts to alter it unleash conflicts with unexpected consequences which will only get worse by the second. DIR Manolo Munguia. SCR Sergio Martinez, Manolo Munguia. CAST Míriam Tortosa, Mariona Tena, Bernat Mestre. (Spain) West Coast Premiere
#Like - 8/26

Woodstock teen Rosie, mourning the first anniversary of her younger sister's suicide, discovers the mysterious man who sexploited and bullied her sister is back on-line trolling for new victims. After the authorities refuse to get involved, she finds a darkness she never knew she had when she takes justice into her own hands. DIR Sarah Pirozek. SCR Sarah Pirozek. CAST Marc Menchaca, Jeff Wincott, Samantha Nicole Dunn, Dakota Lustick. (U.S.)
LILLIAN- 8/22

2019 Cannes Film Festival - Golden Camera Nominee
An immigrant in New York decides to walk back to her home in Russia. DIR Andreas Horvath. SCR Andreas Horvath. CAST Patrycja Planik. (Austria) West Coast Premiere
ONCE UPON A RIVER - 8/28

Margo Crane's odyssey on the Stark River introduces her to a world filled with wonders and dangers about life, death, and family histories. A mix of mystery, science, and magic, based on a book of the same name by Bonnie Jo Campbell. DIR Haroula Rose. SCR Haroula Rose. CAST Kenadi DelaCerna, John Ashton, Tatanka Means. (U.S.)
RELENTLESS - 8/27

Jake has just been released from prison and has one day to stay out of trouble until he starts his new life. He is about to meet Ava. Jake is about to have a very bad day. DIR Steven Murphy. SCR Steven Murphy. CAST Steven Murphy, Tiffany-Ellen Robinson, Tim Faraday. (United Kingdom) World Premiere
SEVEN SHORT FILMS ABOUT (OUR) MARRIAGE - 8/23

A tempestuous romantic drama in seven vignettes that chronicles an interracial marriage, telling a story of turmoil and tenderness as two people try to make their relationship last.
DIR Christopher J. Hansen SCR Christopher J. Hansen CAST Chynna Walker, Drez Ryan. (U.S.)
SCENT OF MY DAUGHTER - 8/29

Beatrice's life changes dramatically during the July, 2016 terrorist attack in Nice. She loses her parents, her husband, and her three-year-old daughter, who came to admire the fireworks on the famous Promenade des Anglais. Beatrice decides to repatriate the bodies in her father's native Armenian village of Hatay, Turkey, near the Syrian border. DIR Olgun Özdemir. SCR Olgun Özdemir. CAST Yilsen Ozdemir, Caglar Ertugrul Clémence Verniau. (Turkey) U.S. Premiere
STITCHES - 8/26

Combining elements of thriller and melodrama, Stitches deals with the hot social issue of newborn babies being abducted from Serbian hospitals. The script by Elma Tataragic tells the story of a woman who was told her newborn died 20 years ago, but who firmly believes the baby was stolen. DIR Miroslav Terzic. SCR Elma Tataragic. CAST Snezana Bogdanovic, Jovana Stojiljkovic, Marko Bacovic. (Serbia) U.S. Premiere
THE FALL - 8/27

When Michael meets Evie, they believe they're meant for each other. But as the leaves fall and the weather grows colder, their all-too-perfect tale of love at first sight is confronted with reality. DIR Ben Senior. SCR Ben Senior. CAST Robert Petrie, Sara Gray. (U.S.)
VAGABONDS - 8/23

Four people on the fringes of society are going to make a "seismic" encounter. Four vagabonds, with seemingly no future, will discover the meaning of hope.
DIR Philippe DAJOUX, CAST Marysol FERTARD, Pauline BRESSION, Aurélie REINHORN, Bryan TRÉSOR. (France) US Premiere.
THE WALL OF MEXICO - 8/27

A wealthy Mexican family decides to build a wall around their ranch to stop townspeople from stealing their well water. DIR Zachary Cotler, Magdalena Zyzak. SCR Zachary Cotler. CAST Jackson Rathbone, Esai Morales, Marisol Sacramento, Mariel Hemingway. (U.S., Mexico) West Coast Premiere
WOE - 8/27
A brother and sister struggle to connect one year after their father's death. When both stumble on a haunting family secret, one searches for meaning while the other tries to put an end to it. DIR Matthew Goodhue. SCR Matthew Goodhue. CAST James Russo, Jessie Rabideau, Ryan Kattner. (U.S.) World Premiere
SHORT FILM PROGRAM
ROMANCE MAY BE DEAD - SHORT FILM PROGRAM - 8/30

THEY WON'T LAST
After attending a friend's perfect wedding, marriage-averse Christine finds an engagement ring in her boyfriend's jacket pocket. Once Christine confronts him about the ring and her distaste towards marriage, she is faced with an ultimatum -- get engaged or break up. DIR Portlynn Tagavi. SCR Portlynn Tagavi. CAST Deeq Adam, Charis Arakaki, Mia Calderene. (U.S.)
ZOE & BRYN
Two young women meet and over the course of one evening develop a connection that neither was expecting. DIR Maura Smith. SCR Maura Smith. CAST Abbey May, Jackie Martin, Lourdes Martinez. (U.S.)
WING NIGHT
On the verge of moving in together, a couple has to reevaluate what they want when they realize they might be pregnant. DIR Erica Elson. SCR Erica Elson. CAST Alexandria Collins, Taylor Fogg. (U.S.)
TRAIN STOP
Somewhere in the crowd, there's someone for you. Two busy professionals confront their undeniable attraction, and their demons, after a chance meeting at the train station. DIR Auden Bui. SCR Mark Cornell. CAST James Babbin, Sage Porter, Tim Conlon. (U.S.)
ENGAGED
All Darren wants is to propose to his longtime boyfriend. What could possibly go wrong? DIR Dave Scala. SCR Dave Scala. CAST Daniel K. Isaac, Ryan Jamaal Swain, Victoria Meade. (U.S.)


DRAMATIC SHORT FILM PROGRAM - 8/30
ROADSIDE
A young woman is confronted with a decision when she meets the brother of her deceased friend at his roadside memorial. DIR Peter Falls. SCR Peter Falls. CAST Tessa Ferrer, Peter Falls, Mat Wright. (U.S..)
FUGUE
No two losses are alike, yet grief can create its own sort of kinship. DIR Laura Neri. SCR Lauta Neri. CAST Maria Kallimani, Orestis Tziovas, Aggelos Karaminas. (Greece)
CRIMSON CUFFS
Laurena goes on a blind date at the behest of her pushy mother and learns that it's always best to trust your instincts over advice. DIR Madeline Vail. SCR Madeline Vail. CAST Madeline Vail,
Sandra Glinka, Alexander Rain. (U.S.)
SO WHAT IF THE GOATS DIE
2020 Sundance Film Festival, Grand Jury Prize - Best Short Film Winner
A young shepherd is forced to brave the snow order to get food and save his cattle, only to end up facing a supernatural phenomenon. DIR Sofia Alaoui. SCR Sofia Alaoui. CAST Fouad Oughaou. (France, Morocco) West Coast Premiere
PIPE DREAM
Each year thousands of budding actors take that huge leap of faith and move to L.A. or New York in search of stardom.
This is the story of beloved legend of stage and screen, Carol Burnett. DIR Chris King. SCR Chris King. CAST Chris King,
Julie Anchor, Erik Sundquist. (U.S.)

THE KIDS ARE FIGURING IT OUT - SHORT FILM PROGRAM - 8/26

HELLO AHMA
For a curious eight-year-old adjusting to a new life with her parents in America, the passing of her beloved grandmother in Singapore yields first encounters with painful truths about life, death, and cultural dislocation. DIR Siyou Tan. SCR Siyou Tan. CAST Boon Pin Koh, Wu Mama, Sofie Yu Xuan Yang, Squirtle, Ying Yuen. (Singapore, U.S.)
KOKOKIDS OF PARIS
Lou-Ann, a shy six-year-old, bonds with the smart and witty Chaya, 8, over their shared love of Afro-electro dance. They explore Paris in a dreamy adventure until they face the harsh and unseen reality surrounding their lives. DIR Alexia Colette. SCR Alexia Colette. CAST Lou-Ann Zozime, Chaya Kama. (France)
CHUBBY
A ten-year-old girl struggles with the residual trauma of her sexual abuse. DIR Madeleine Sims Fewer, Dusty Mancinelli. SCR Madeleine Sims Fewer, Dusty Mancinelli. CAST Heather Allin, Deragh Campbell, Jesse LaVercombe, Maya Harman. (Canada)
OLEANDER
A seventeen-year-old sex-positive YouTuber starts a social media war against her Christian abstinence program. DIR Kate Hackett. SCR Kate Hackett. CAST Emily Robinson, Peri Gilpin,
Jennifer Lafleur, Mike Coleman. (U.S.)
EXAM
A teenage girl involves in the process of delivering a pack of cocaine to its client, and she got stuck in a weird cycle of occurrences.
DIRSonia K. Hadad
SCR Sonia K. Hadad, Farnoosh Samadi
CAST Elaheh Afshari, Sadaf Asgari, Masih Kazemi
EXPERIMENTAL SHORT FILM PROGRAM - 8/29

LEGO
When a couple enters the mysterious house of her childhood, the woman disappears and in searching for her, the man finds a newborn baby wearing his wife's necklace. DIR Faryarsadat Hosseini. SCR Faryarsadat Hosseini. CAST Milad Keymaram, Katauyon Saleki, Donya Jafari, Maede Amini. (Iran)
VALERIO'S DAY OUT
2020 Sundance Film Festival, Short Film Special Jury Award for Directing
A young jaguar goes on a killing spree when he escapes from his enclosure at a zoo. After he's captured, sedated, and relocated, he makes a video diary for his significant other, Lula. DIR Michael Arcos. SCR Michael Arcos. CAST Monika Leska, Catherine Caldwell. (Colombia, U.S.)
DANNY, DANNY
A candid look at a young woman's deep desire to connect through a series of fleeting moments.
DIR Huan Cheng. SCR Huan Cheng. CAST Huan Cheng (U.S.)
OUR LOVE WAS FICTION
The lonely speech and fantasies of a romance addict. DIR Catarina Balbini. SCR Catarina Balbini. CAST Giulia Lancellotti. (Germany, Brazil)
PAOLA MAKES A WISH
2020 Sundance Film Festival, Short Film Grand Jury Prize - Best Short Film Nominee
On her regular day at work, Paola starts to feel she is missing out on something exciting. DIR Zhannat Alshanova. SCR Zhannat Alshanova. CAST Christina Proserpio, Ana Shametaj, Valentina Manzoni. (Switzerland)
HEATSTROKE
On a hot and febrile day, teenage Claire ditches school to meet some friends in the woods where her memories, traumas and desires merge. DIR Edgar Morais. SCR Edgar Morais. CAST Paul James Jordan, Leah Pipes, Michael Welch, Allison Winn. (Portugal, U.S.A)
WHAT STRANGE LIVES WE LIVE - SHORT FILM PROGRAM - 8/28
GEMINI
In a very near future two VR gamers coincidentally meet in real life and through their interactions expose the dark side of virtual reality and gaming.
DIR Mily Mumford, SCR Mily Mumford, CAST Donna Benedicto, Parker Clark, Cody Kearsley
I'LL END UP IN JAIL
2020 Sundance Film Festival, Short Film Grand Jury Prize - Best Short Film Nominee
A stay-at-home mom gets into a murderous car crash where nobody wants to take the blame. DIR Alexandre Dosti. SCR Alexandre Dosti. CAST Martine Francke, Émile Schneider, Guy Thauvette, Joseph Delorey, Stéphane F. Jacques, Marine Johnson. (Canada)
WAITING FOR A RIDE
After working his graveyard shift, a docile janitor settles in to wait for his bus, and is approached by a challenging stranger. DIR Joshua Nazaroff. SCR Joshua Nazaroff. CAST Rico Graziano, Joshua Nazaroff. (U.S.)
SHANGRI-LA
In 1958 Palm Springs, an exiled cop discovers his chance at redemption when he is enlisted by a movie star to destroy the mob boss who controls her career. DIR Kimberly Willming, Wendy Willming. SCR Kimberly Willming, Wendy Willming CAST Serinda Swan, Enver Gjokaj, Currie Graham, Bonita Friedericy, Joel Stoffer, Erik Aude. (U.S.)
BOO
A traumatic event forces a recovering addict to face her demons, without her worried fiancé uncovering the truth. DIR Rakefet Abergel. SCR Rakefet Abergel, Tiffany Arnold. CAST Rakefet Abergel, Josh Kelly, Parisa Fitz-Henley, Laura Wiggins. (U.S.)
GET BY WITH A LITTLE HELP
Cate, a lonely, witchy librarian who fails to find comfort and connection in her normal life, seeks it out in the supernatural. DIR Jefferson Brassfield. SCR Jefferson Brassfield. CAST Mary Morales. (U.S.)

I CAN LAUGH AT IT NOW - SHORT FILM PROGRAM - 8/29

MEATS
2020 Sundance Film Festival, Short Film Grand Jury Prize - Best Short Film Nominee

A pregnant vegan struggles with her newfound craving for meat. DIR Ashley Williams. SCR Ashley Williams. CAST Ashley Williams, Giancarlo Sbarbaro. (U.S.) West Coast Premiere
A PERFECT CIRCLE
A cynical millennial reluctantly seeks enlightenment at a trendy therapeutic retreat in Los Angeles. DIR Marc Furmie. SCR Tatiana Ikasovic. CAST Tatiana Ikasovic, Isabelle Chester, Alex Cubis. (U.S.)
PATRICIA
Sarah and Beth are perfect roommates, understanding and accepting of each other's differences and idiosyncrasies until a seemingly homeless man decides to start living in their backyard. DIR Cameron Fife. SCR Sarah Noble Peck, Beth Triffon. CAST Sarah Noble Peck, Beth Triffon, BJ Averell, Kunal Dudheker. (U.S.)
REASON FOR LEAVING
During a job interview, a former barista must relive a stressful encounter with an eccentric café patron. DIR Azwan Badruzaman. SCR Azwan Badruzaman. CAST Azwan Badruzaman, Eduardo Olmos, Elisha Yaffe, Roger Rignack. (U.S.)

NEW DUTCH HERRING
Day in and day out he pushes his cart to the dike on the same spot to sell his herring, until a fateful event. DIR Ruben van Duijn. SCR Ruben van Duijn. CAST Aus Greidanus Sr., Britte Lagcher, Jonas Smulders, Gijs Blom, Dirk van Duijn (Netherlands)

MOVING
One young woman's Sisyphean quest to get a mattress up a staircase and into her walk-up apartment. DIR Adinah Dancyger. SCR Adinah Dancyger. CAST Hannah Gross, Brandon Garcia, Ondine Hudson. (U.S.)